Wireless optical communication system using Free space optics is the most situable equipment for Airport communication.
More and more travellers want internet access in the airport, airport retailers need to communicate, security staff need network connectivity, air traffic on the ground needs to be handled and airlines want to exchange information with airport departments.
The network in the Airport has to be reliable, redundant, easy to use and robust. The biggest challenge is the need to provide coverage inside a large building while at the same time covering a large area outdoors and this must be cost effective. Wireless runway lighting systems and the presence of the large metal bodies of aircraft can pose a challenge for radio transmission and reception. Wireless communication systems face another problem. As different airlines and other air transport industry companies use an airport's network on a regular basis, a global standard WiFi service is necessary to regulate the traffic on the runways without failure of the system. In some Airport area is using WI-FI prohibited. Usually, the lightning infrastructure on the airfield is managed and communicated over fibre optic cables. The cables run all around the airport and are therefore in danger to be damaged during works. Several airport IT providers have started to consider the advantages of those wireless networks as a back-up to fibre lines. One driving factor is the reduced installation and maintenance costs of wireless applications.
Reliable and cost effective solution is the most important factor for the safe and controlled aircraft handling at active runway interseptions.
The EC SYSTEM wireless optical network uses Free space optics (FSO) and solves the mentioned problemes. Free space optics equipment is immune any interceptions, works with high reliability in the areas with high radio noise density and warrants secure data transmission. Free space optics technology is not regulated, cannot be damaged during the works, can be easily and fastly deployed and redeployed. The costs of installation and maintenance are also low.
EC SYSTEM provides 10-Gigabit Free space optics EL-10G with net throughput 10 Gbps and free space optic equipment with speed 1 Gbps EL-1G with distance range up to 5000 m. The equipment is equiped by Autotracking system for quick and easy deployment and high reliability of wireless optical link.
Application:
Optical wireless Point-to-point link
Star, Ring, Point-to-point topology as well as connection to other networks
Last mile connectivity
Benefits:
Fast and easy deployment
No municipal permission required
Immunity to nearby radio frequency interception
The most secure system
No digging required
No frequency-regulatory licensing fees required
Total 10 Gbps Full Duplex throughput and low latency
Immune to interference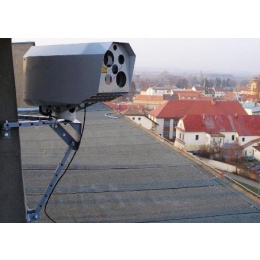 Free space Optics
Optical wireless connection FSO up to 10 Gbps Full Duplex imune to interception
More info