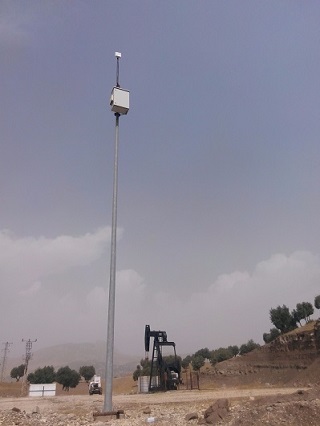 CCTV real time monitoring of remote areas
The robustness and reliability of EC SYSTEM outdoor wirelees Point to Point and Point to Multipoint makes it ideal for CCTV real-time monitoring of remote areas in energy, mining and oil & gas industries operating in extreme climate conditions. Oil and Gas industry operates from very remote locations and have tough natural conditions.The key to the operation and success of their business is a highly reliable network infrastructure with smooth connectivity to their remote facilities.The EC SYSTEM wireless point to point and wireless Point-to-Multipoint 3GHz and 5GHz supports more advanced applications such as remote video surveillance and plant monitoring.
EC SYSTEM outdoor wireless solution Point to Point (PtP) and Point to Multipoint (PtP) supports more advanced applications such as broadband real-time video surveillance and plant monitoring from remote areas. These applications require increased bandwidth and throughput on the transmission systems. Fast, reliable, long distance wireless backhaul, capable of high throughputs across long distances in extreme climate is therefore one of the most necessary applications in these sectors.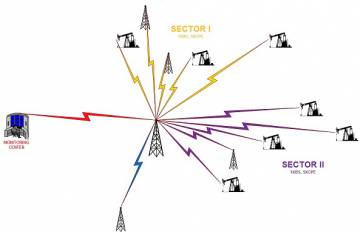 Laying fiber or copper is often cost ineffective or is not technically applicable so the deployment of a broadband wireless infrastructure or free space optics equipment is the most viable option to deploy. Robustness, reliability, high throughput, powerful features, media traffic applications (VoIP, video etc), prioritization of data, advanced QoS management and reliable transmission over long distances are the reasons why the customer's choice is EC SYSTEM.
Applications:
Connection of remote sites to the headquarters

Simultaneous CCTV transmission of voice, video and data across the network

Campus-style topologies for the connectivity of remote company branches or warehouses

Connection of video surveillance CCTV cameras

Wireless Point-to-Point connection for backbone connections between production fields
Wireless Point-to-Multipoint solutions for data acquisition from multiple-well platforms to enable remote control
Point-to-Point connectivity between offshore platforms
Last mile CCTV connectivition for fuel filling stations - video surveillance, IP telephony, WI-FI Internet access
Wireless in motion for vessels
Benefits:
Mission critical traffic prioritization, prioritization of the real time applications
Increased safety and secure real time video, VOIP and data transmission from the remote areas to the head office
Scalable and reliable network
Real-time remote monitoring, maintenance and operation of the off-shore devices
GPS synchronization
High capacity – up to 500 Mbps
250Mbps PtMP Base Station
Long range PtP - up to 80 Km
Symmetrical and asymmetrical connectivity
Near and non-line-of-sight (nLOS/NLOS) operation
Robustness and Reliability for deployment in harsh environment
Support Internet, Remote Desktop connections, SCADA, Telemetry, video surveillance, Voice,VPN
EC SYSTEM Point-to-Point, Point-to-Multipoint product portfolio fulfilling demands of oil and gas companies to assure increased safety and operational efficiency.
EC SYSTEM Wireless base stations and CPEs (subscriber units) allow multiple video streaming. The base stations high sector capacity is upgradeable from 40 to 240 Mbps and is minimizes the use of valuable radio spectrum compare with many other Point-to-Multipoint wireless equipment. EC SYSTEM´s CPEs are able to provide bandwidth requirements between 8 and 50 Mbps net capacity.
Longer Distances
Built-in amplifiers and sophisticated radio design, with integrated remote monitoring features make EC SYSTEM solutions an ideal choice for backhauling data from distant locations and connecting remote sites to corporate networks. With capacities of up to 240 Mbps and distances in excess of 80 km, EC SYSTEM reduces capital expenditure required to cover long distances across difficult terrains.
Robust design and Reliability
Reliability and robustness are the most critical requirements for any outdoor wireless installation. EC SYSTEM broadband equipment has robust design taked into account dust and moisture making sure the units are well protected. A built-in lightning protection for the outdoor units will ensure uninterrupted operation of the equipment in extreme environmental conditions. Complies with HAZLOC nad ATEX standards for operation in hazardous and potentially explosive atmospheres.
Operating temperature range: -55 C to +60 C
Built-in lightning protection
Protection from dust and moisture ingress (IP66/IP67 protection class)
Full Support of Real-time Applications
EC SYSTEM wireless solution for CCTV connection supports transmission of high-quality video streams in real-time allowing prioritize bandwidth for different types of traffic so that low priority traffic won't impact negatively on mission-critical data.
EC SYSTEM wireless Point-to-Point and Point-to-Multipoint solutions enable energy and utility service providers to build a complete broadband network with high capacity over long distances, advanced features, low maintenance cost and affordable prices as compared to other vendors in the industry.
Communication Links between offshore platforms
EC SYSTEM Point-to-Point link with advanced radio features ensure signal quality to provide reliable overwater communication to remote offshore platforms and transfer voice, video, telemetry and data at distance of more than 50 km.
Connections between production fields
Bacbone for telemetry data acquisition from remote production fields
Network capacity allowing transmission of real-time HD video streams
Distance between monitoring and data acquisition centers and production fields up to 35 km for Point-to-Multipoint topology
Robustness and outdoor design make the EC SYSTEM equipment the most suituable equipment in the severe clmatic conditions.
Connection of telemetry sensors
Telemetry data acquisition from sensors and other telemetry devices
Distance between network backbone and data acquisition objectis over 15 km
Real-time data transfer from CCTV systems
Bacbone for data transfer to the network control center
Connection of fuel filling stations
Connection of remote fuel filling stations at a distance of up to 35 km in Point-to-Multipoint topology and up to 80 km in Point-to-Point topology
High-speed connection provides reliable Internet access, collection and transmission of service information from fuel filling stations and transmission of real-time video from surveillance cameras
Benefits of EC SYSTEM:
Reliable operation in harsch weather conditions
High performance
Capacity upgradable up to 450 Mbps
Distance up to 100 km for Point-to-Point and 36 km for Point-to-Multipoint
Multiple simultaneous connections - video, cameras, WI-FI access points, multiple sensors
CAPEX optimization - pay-as-you grow, high MTBF
Unified management tools for all devices
Easy installation