FSO 10 Gbps in airport area
FSO 10 Gbps in airport area
Sector: Internet Service Provider company Kaza s.r.o
Sector: Internet Service Provider company Kaza s.r.o
Kaza, an Internet Service provider based in Czech Republic, has been enjoying optical wireless connectivity with 1 Gigabit capacity and reliable service from EC SYSTEM Free space optics (FSO) for 10 years. Kaza has been using various types of wireless connection such as radio frequency broadband equipment 5 GHz, 3GHz and free space optics equipment in its network.
The challenge facing Kaza s.r.o.:
In the dense coverage and big Wi-Fi interference from other networks (2,4GHz and 5GHz), Kaza faced the challenge of having to offer higher data transfer capacity to its customers. Kaza had to deploy fast new connection, providing large data transfer for distance of 1.500m to be able to offer to its customers required connectivity as fast as possible.
The challenge was that the wireless Point to Point infrastructure had to be located in the Airport area, where using of radio technology was prohibited and at the same time the installation of fiber optical cables would require municipal approval and a permission of the owner of the territory to ground the cables. On top of that, the deployment of the fiber optic cables would take much more time. The deployment of EC SYSTEM Free space optics (FSO) equipment, providing net throughput of 10 Gbps Full Duplex, on the other hand, is fast, easy and does not require any license fee or municipal permission.
The EC SYSTEM Free space optics solution:
EC SYSTEM EL-10G free space optics (FSO) is advanced optical wireless solution with throughput of 10 Gigabits, (bandwidth 10312,5 Mbps) Full Duplex, distance up to 3000m, with very low latency, automatic system for alignment, Real-time AGC (Automatic Gain Control) providing regulation of the optical transmit power of the laser diode and Real-time Auto tracking system, compensating the thermal expansion as well as the possible movements of mast or building.
Kaza obtained benefits:
Fast and simple deployment
No frequency-regulatory licensing fees required
No delay with deployment
Total 10 Gigabits Full Duplex throughput and low latency
Immune to interference
Competitor Advantage – possibility to offer high capacity data transmission to its customer faster than any competitor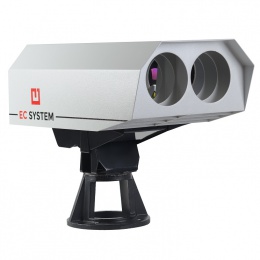 Wireless optical link
Free space optics provides 10 Gigabit data transmission in Full Duplex, no diging no license
More info