Free Space Optics 10 Gigabits EL-10G
Free Space Optics 10 Gigabits EL-10G
EC SYSTEM 10-Gigabits Free space Optics is wireless optical link, which can be supplied with the option to upgrade the capacity up to 30 Gbps by software key. Free space optics 10Gigabit is cost-effective alternative to the optical fibre technology. The main advantege of Free space optics bridge is fast and easy deployment and redeployment. Deployment of optical wireless Point-to-Point (PtP) link does not required diging or municipal permission.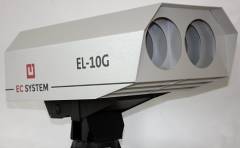 Benefits FSO versus Fiber optics:
No municipal permission required
Wireless optical link is immune from nearby radio frequency interception
The most secure system
No digging required
Mobility
Fast and easy deployment and redyployment
Area of FSO network application:
Optical wireless Point-to-Point
Hot standby
Mesh and Ring
Backhaul
Internet Service providers
Government and private companies
Cost effective alternative to the optical fibre technology
Free space optics EL-10G
Throughput: 10 Gigabits/s
Bandwidth: 10312,5 Mbps Full duplex
Wavelenght: 1550 nm
Link distances: up to 1500m
Latency: less 0,05 ms
Basic interface: 1Gbps/10/Gbps SFP+
Additional interfaces: 2-63 E1 channels
Alignment: Autotracking system (targeting and aiming), speed of autotracking adjustment 8 mrad/s
Mangement: IP monitoring: Web, UDP (firmware),SNMP traps
Built in service channel
Voltage 48 V DC
Operating temperature: -40,+50 C
The optical link with capacity 10 Gigabits and option to upgrade up to 30 Gigabits has part name EL-10Gext
Download leaflet:el-10g.pdf (337 kB)

Description:
Real-time AGC (Automatic Gain Control) regulates power of laser depending of the link quality to ensure high availability of the wireless optical connection.
Real-time Auto tracking compensates movements caused by motion the mast or bulding and at the same time allows the deployment of free space optics sequipment most simple and faster compered with the other technology
Free space optics equipment can be used in networks topology of point-to-point, "star" or "ring",
Success story:
EC SYSTEM Free space optics provides highly reliable transfer of big data for Data Center Company in Mexico City, Bank in Angola, Internet Service Provider and Mobile operators all over the World.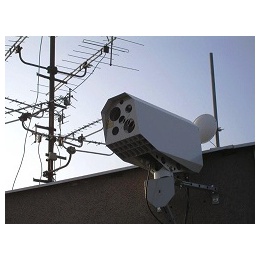 Free space Optics
More about Free space optics models with capacity 100 Mbps, 1Gbps and 10 Gbps Full Duplex.
More info