Free space optics 1 Gigabit
Free space optics 1 Gigabit
Free space optics equipment (FSO) with 1 Gigabit throughput in Full Duplex is wireless optical Point-to-Point link to provide the most effective options for security and safety systems, Backhauls and wiress point-to-point connectins required high speed data transfer and at the same time have request for high security of communication.
EC SYSTEM Free space optics EL-1G with capacity 1 Gigabit provides laser communication with speed 1 Gigabit in Full Duplex up to 15 km and can serve as cost-effective alternative to the E-band microwaves systems.
Benefits of Free space optics (FSO) versus E-Band
Distance up to 15 km for 1Gbs
Distance does not affect the capacity
The most secure system
No license required, no regulated
Fast and easy deployment in minutes, automatic adjustment, auto tracking
No interception
Area of Free space optics network application


Point-to-Point, star, mesh and ring topology
Backhaul

First mile connectivity

Last mile connectivity
Fast temporary optical wireless connectivity in disaster recovery
Key Features of EC SYSTEM Free space optics
Throughput: 1 Gigabit/s
Bandwidth: 1250 Mbps Full duplex
Wavelenght: 1550 nm
Latency: less 0,125 ms
Distance range: EL-1GS: up to 1200m el-1gs.pdf
Distance range: EL-1GL: up to 4400 m el-1gl.pdf
Basic interfaces: 10/100/1000 Base TX, SFP:1000 Base-SX
Alignment: Autotracking system (targeting and aiming), speed of autotracking adjustment 8 mrad/s
Mangement: IP monitoring: Web, UDP (firmware), SNMP traps, Built in service channel
Voltage: 48 V DC
Operating temperature: -40,+50 C
Description:
Built-in Real-time AGC (Automatic Gain Control) regulated the optical transmit power of the laser diode depending on wireless optical link quality automatically in real time to ensure high availability of the optical wireless connection.
Real-time Auto tracking built-in compensates movement caused by motion of mast or building
Topology of "star" or "ring", Point to Point or connection to otherexisting networks.
Benefits of using wireless optical link (FSO):
Fast and simple deployment and redeployment
No technology regulation
High secure and high reliable communication without interception
No diging required
Success story:
The EC SYSTEM Free space optics with capacity 1 Gbps provides highly secure data transfer for bank branches in Luanda, Angola and Data Centre in Mexico.
success-story-1gbps-fso-mexico-city-government-2-.pdf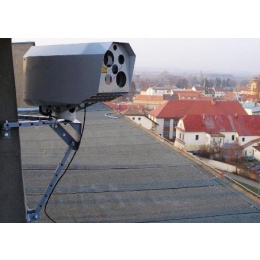 Free space Optics
Optical wireless connection FSO up to 10 Gbps Full Duplex imune to interception
More info