Wireless Point to Point 5Ghz and 6GHz
Wireless Point to Point 5Ghz and 6GHz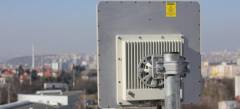 EC SYSTEM wireless Point-to-Point (PtP)bridge in 4.9-6.425 GHz frequency bands is used for building partial or complete backbone networks, for implementing cellular or micro-cellular structures in metropolitan and corporate networks. EC SYSTEM wireless Point-to-Point software upgradable capacity solution allows Wireless Internet Service providers (WISPs) gradually invest in networks and benefit from a fast Return on investment.
Key Features of EC SYSTEM Point-to-Point bridge:
Multiple frequency bands 4,9 - 6,05 GHz and 6,05 - 6,4 GHz
Wide range of terminals with license upgrade option
High capacity – up to 480 Mbps net throughput
5/10/20/40 MHz channel widths
Possible operational distances in excess of 80 km
LOS (line-of-sight) and NLOS (non-line-of-sight) deployments
Advanced Quality-of-Service Support
Plug & play solution 5–6 GHz ultra-long backhaul connection
Gigabit Ethernet port/ SFP+ optical port
Flexible uplink/downlink reallocation
point-to-point-5ghz-6GHz.pdf (873 kB)
Applications:
GSM/3G/LTE High-capacity Backhaul
WISP infrastructure Backhaul
Building-to-building connectivity at Fast Ethernet speeds
Cost-effective alternatives to legacy microwave links or wired leased lines
NLOS backhauling using lower frequency bands
Reliable backup for fibre lines, high-speed FSO or millimetre- wave links A
Wireless Point to Point EC-Link Profi is EC SYSTEM's most recent addition to our wireless portfolio.It is available with a wide range of integrated antennas, as well as a connectorized version for use with 3rd party external antennas, and coupled with improved transmit power and sensitivity, the Profi family will fit perfectly into a large area of applications such as backhaul in the telecom market, education, oil and gas, smart cities, video surveillance and public safety.
Key Features of the EC SYSTEM Point-to-Point Profi:
Best in class 13 bps/Hz
1 million packets per second
Net performance of 100 Mbps in 10 MHz, 240 Mbps in 20 MHz, 480 Mbps in 40 MHz
Distance up to 100 km with external antenna
TDD synchronization fully supportetd, via GPS receiver or IEEE1588 PTP
Fully configurable uplink/downlink ratio
Channel bandwidth 10,20,40 MHz
Modulation from QPSK to QAM256, as well as QAM1024
Power consumption up to 30 Watts
EC Link Point-to-Point 4.9-6.0 GHz
Part Number
Net Throughput up to
Antenna
TRX power mW
Frequency band GHz

Recomended

Distance

Description

Download
P5G-CR150
1 Gbps
external
2x150 mW
4.9-6.0
1 Gbps,2xNtype RF connector,2xGigabit Ethernet,1xSFP port,GPS receiver,2x150mW transmit power
P5G-A23R150
1 Gbps
23 dBi
2x150 mW
4.9-6.0
1 Gbps,23dbi integrated antenna,2x Gigabit Ethernet,1xSFP port, GPS receiver,2x150 transmited power
P5G-A26R150
1 Gbps
26 dBi
2x150 mW
4.9-6.0
1Gbps, 26dBi integrated antenna, 2x Gigabit Ethernet,1xSFP port, GPS receiver
P5G-A28R150
1 Gbps
28 dBi
2x150mW
4.9-6.0
1Gbps,28 dBi integrated antenna,2xGigabit Ethernet,1xSFP port, GPS receiver,2x150mW transmited power
P5CR500
480 Mbps
external
500
4.9-6.0
100+ km
2xN type RF connectors,2xGigabit Ethernet,1xSFP port, GPS receiver


P5A23R500
480 Mbps
23 dbi
500
4.9-6.0
up to 30 km
23 dBi integrated antenna, 2xGigabit Ethernet, 1xSFP port, GPS receiver


P5A26R500
480 Mbps
26 dBi
500
4.9-6.0
30+ km
26 dBi integrated antenna, 2xGigabit Ethernet, 1xSFP port, GPS receiver
P5A28R500
480 Mbps
28 dBi
500
4.9-6.0
up to 60 km
28 dBi integrated antenna, 2xGigabit Ethernet, 1xSFP port, GPS receiver


H5DA23R500
280 Mbps
23 dBi
500
4.9-6.0
up to 30 km
23 dBi integrated antenna, Gigabit Ethernet, instant DFS
H5A23R500
280 Mbps
23 dBi
500
4.9-6.0
30+ km
23 dBi integrated antenna, Gigabit Ethernet
H5A26R500
280 Mbps
26 dBi
500

4.9-6.0

30+ km
26 dBi integrovaná anténa, Gigabit Ethernet
H5D26R500
280 Mbps
26 dBi
up to 500

4.9-6.0

30+ km
26 dBi integrovaná anténa, Gigabit Ethernet, instant DFS
H5DA28R500
280 Mbps
28 dBi
up to 500

4.9-6.0

up to 60 km
28 dBi integrovaná anténa, Gigabit Ethernet, instant DFS
H5A28R200
280 Mbps
28 dBi
up to 500

4.9-6.0

up to 60 km
28 dBi integrovaná anténa, Gigabit Ethernet


H5CR500
280 Mbps
connectorized
up to 500

4.9-6.0

60+km with external high-gain antenna
2xN type RF connectors, Gigabit Ethernet


H5DCR500
280 Mbps
connectorized
up to 500

4.9-6.0

60+km with external high-gain antenna
2xN type RF connectors, Gigabit Ethernet, instant DFS


S5A19R63Lx
8/20/50/180 Mbps
19 dBi
63

4.9-6.0

up to 10 km
integrated 19 dBi dual polarity antenna, 1xFast Ethernet


S5A23R63Lx
8/20/50/180 Mbps
23 dBi
63

4.9-6.0

up to 25 km
integrated 23 dBi dual polarity antenna, 2xFast Ethernet


S5A23R500Lx
8/20/50/180 Mbps
23 dbi
500

4.9-6.0

up to 25 km
integrated 23 dBi dual polarity antenna, 2xFast Ethernet
S5A26R63
180 Mbps
26 dBi
500

4.9-6.0

25+ km
integrated 26 dBi dual polarity antenna, 2xFast Ethernet
S5A26R500
180 Mbps
26 dBi
500

4.9-6.0

25+ km
integrated 26 dBi dual polarity antenna, 2xFast Ethernet
S5A28R63
180 Mbps
28 dBi
63

4.9-6.0

up to 35 km
integrated 28 dBi dual polarity antenna, 2xFast Ethernet


S5A28R500
180 Mbps
28 dBi
500

4.9-6.0

up to 35 km
integrated 28 dBi dual polarity antenna, 2xFast Ethernet


S5CR63Lx
8/20/50/180 Mbps
connectorized
63

4.9-6.0

up to 70 km with high-gain external antenna
2xN typ RF connectors,2xFast ethernet (POE out)


S5CR500
8/20/50/180 Mbps
connectorized
500

4.9-6.0

up to 70 km with high-gain external antenna
2xN typ RF connectors,2xFast ethernet (POE out)



EC Link Point-to-Point 6.0-6,425 GHz
Part number
Net throuhtput
Antenna
TRX power mW
Frequency band GHz
Recomended distance
Description
Download
P6CR500
480 Mbps
for external antenna
500
6.0-6.425
up to 100 km
2xN type RF connectors, 2xGigabit Thernet,1xSFP port, GPS receiver
P6A24R500
480 Mbps
24 dBi antenna
500
6.0-6.425
30 km
24 dBi integrated antenna,1xSFP port, GPS receive
P6A27R500
480 Mbps
27 dBi antenna
500
6.0-6.425
60 km
27 dBi integrated antenna,1xSFP port, GSP receiver
H6CR200
280 Mbps
for external antenna
200
6.0-6.425
80+ km
2xN typ RF connectors, Gigabit Ethernet
H6A24R200
280 Mbps
24 dBi
200
6.0-6.425
30 km
24 dBi integrated dual polarity antenna, Gigabit Ethernet
S6CR200Lx
8/20/50/180 Mbps
external antenna
200
6.0-6.425
70 km
2x N type RF connector,2xFast Ethernet (POE out)
S6A19R200Lx
8/20/50/180 Mbps
19 dBi
200
6.0-6.425
10 km
19 dBi integrated dual polarity antenna,1xFast Ethernet
S6A24R200Lx
8/20/50/180 Mbps
24 dBi
200
6.0-6.425
25 km
24 Bi integrated dual polarity antenna,1xFast Ethernet (POE out)
S6A27R200
180 Mbps
27 dBi
200
6.0-6.425
50 km
27 dBi integrated dual polarity antenna, 1xFast Ethernet (POE out)